Oct-7th, 2016
Pooja/ Navami ka Khana
इस पन्ने को हिन्दी में पढ़ें
This year Navami is on Oct-10. Many people who fast for eight days break their fast on this auspicious day of Navami (ninth day of the navratri pooja) after the prayers and feed nine small girls. For the navami pooja mostly sooji ka halwa (semolina porridge) and kale chane (black gram) are made to offer to the goddess. Onion and garlic is not used for the pooja's (prayer) food. Usually one or two dry vegetables, vegetable in curry (without onion and garlic), one yogurt preparation (raita) , and poori and kachauri are made for the feast (kanya bhoj). The entire food is first offered to goddess and then to young girls and then the family eats. Let's take a look at some of our favorite dishes for this auspicious day……Some of the recipes were already in the website and some are new posts....

Happy Navami,
Shuchi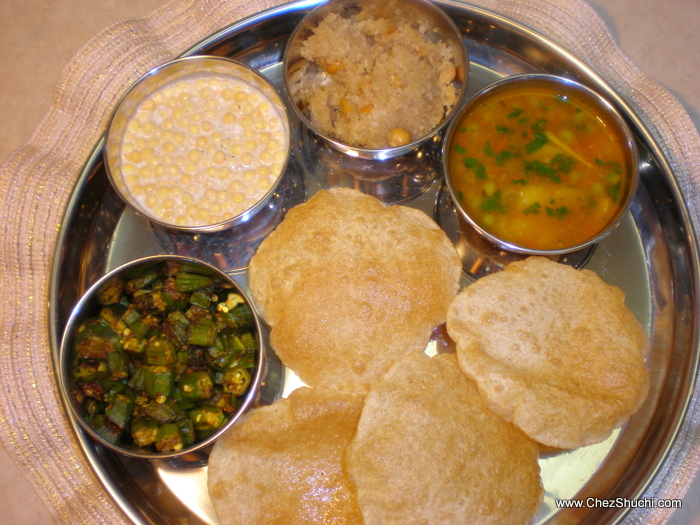 Above picture has - Bhindi ki sabji, Boondi ka raita, Sooji ka halwa, Aloo Tamatar ki sabji, and Poori
---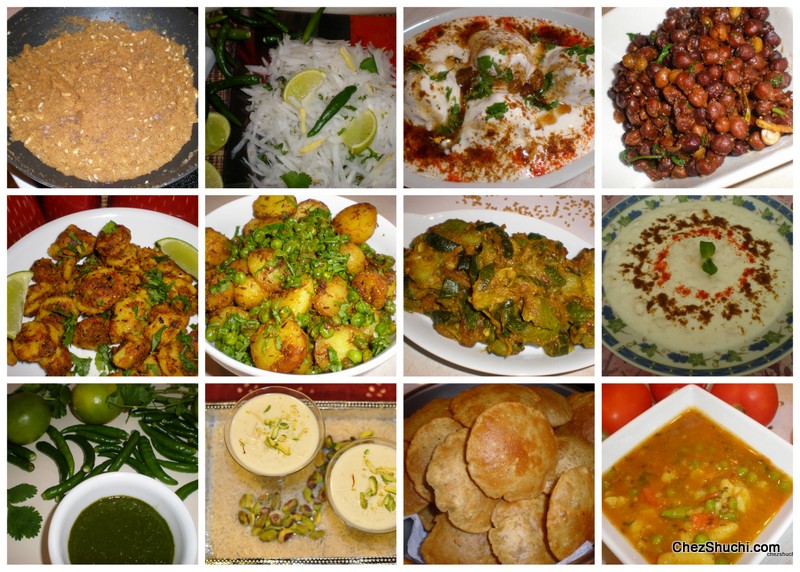 First Row- Sooji ka halwa, Mooli ka kas, Dahi vade, and Kale chane.
Second Row- Masala Arbi, Aloo Matar, Khatta meetha kaddu, Boondi ka raita.
Third Row- Khatti chutney, Kheer, Dal poori, Aloo tamatar ka rasa.
---
Sooji ka Halwa

-Halwa's are special kind of desserts, which are usually ghee (clarified butter) based. The word, Halwa has come from Arab culture. In India, there are a large variety of halwas - Gajar ka halwa, Moong dal halwa, Aate ka halwa etc...This is a delicious preparation for semolina (sooji) ka halwa.

Chane

- Kale Chane also called as Black/Bengal Grams are very rich in protein. In Northern India there is a tradition to make chane with halwa andpoori for Navmi pooja( a ritual). It is a very delicious and low fat preparation so you can make it any time bor snacks/ breakfast..

Gobhi Aloo/गोभी आलू

-Cauliflower is called as Gobhi in Hindi and potato is called as aloo. This is a very famous dish all over the world. Aloo gobhi is a landmark in Indian in cooking; as in 'Bend it like Beckham' , the mother demands her daughter to learn to make Aloo Gobhi. This is a delicious preparation and can be served with any of the Indian breads.



Khatta Meetha Kaddu -

Sweet and Sour Pumpkin is a yummy preparation from North India. Since Indian pumpkin (kaddu) is hard to find in western market, the other options to make this preparations are acorn squash, or Zucchini/Courgette which are easily available all over the world. I have used a variety of squash ........

Masala Arbi

-Arbi is also known as arabi, toro, or colocasia. It is a summer vegetable and resembles a small potato. I use ajwain (carom) seeds for the preparation of arbi as it hepls in digestion of this vegetable. This is a very delicious preparation and goes with roti or paratha.

Aloo Tamatar ka Rasa

-Aloo tamatar ka rasa is a very mild gravy preparation. In North India, especially in UP it is made on daily basis with Plain Paratha. This ia a red curry preparation.

Mooli ka Kus

- Mooli is radish in English and kus means grated, so basically it is a mildly flavored grated radish salad. This is a traditional North Indian preparation served with dal and rice and also with poori subji. This is a very quick and delicious salad preparation.

Boondi Raita

-The word boondi has come from a Hindi  word Boond means drop. Boondis are small deep fried balls of gram flour. This raita goes very well with vegetable Biryani, and also with poori and aloo tamatar ka rasa.

Poori-

Pooris are the deep fried Indian breads made with wheat flour. Poori are usually made for the festivals, ceremony, parties, etc, but there isn't any rules; you can make pooris when you feel like eating them. Let's make the pooris for Navmi pooja…..  

Dal Ki Poori -

Dal ki poori is somewhere in between regular poori and Dal ki Kachauri. For this delicious poori I have made a dough with all the ingredients of Kachauri . So it is a quick yet delicious preparation. Add this dal ki poori in your Diwali dinner menu this time.....
---