Desi Drinks
इस पन्ने को हिन्दी में पढ़ें
Desi word has derived from the Sanskrit word deshi (देशी) means, "from the country". In western world, South Asians refer themselves or their food, as desi. Desi Drinks have deshi influence, they are authentic drinks from India.
In India, drinks are often made according to season. Each season has its own moods, swings, and significance, and so do the drinks. Especially in summers, a variety of drinks are made to provide a respite from the hot winds (लू) and also to provide the minerals required for the body.
In our Desh, Flavored hot milk (कड़ाही का दूध) is served in winters, while summer is the time to enjoy coolants such as mattha, panna, jaljeera, etc …
Along with desi drinks there is a huse variety of other drinks it could be cocktail, mocktails etc. Here is the link to read more about Mocktails.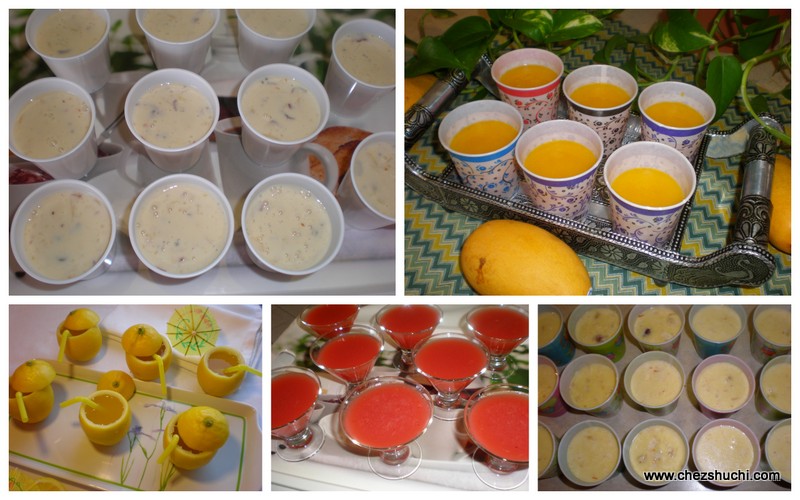 ---
Ginger Tea-

Chai is an Indian tea made by boiling water with ginger, cardamoms, sugar, milk and tea leaves. This is an all-time favorite, and I think it is made a minimum of two times a day in most families in North India. Chai is one of the most famous Indian drinks, almost all my western friends not only know chai but also, call it chai...

Spiced Apple Cider-

Spiced apple cider is a delicious, hot drink usually served at this time of year. Apple cider is somewhat like apple juice. Usually the apple juice we get in store is clear, while apple cider (unfiltered) has residues in it. In the USA you can easily find fresh apple cider in apple orchards and also in organic stores and super markets. ..

Lemonade-Lemonade is more commonly known as Neebu Shikanji in India. This fresh and homemade lemonade drink is very refreshing. "Old is Gold" is a perfect expression for Neebu Shikanji or lemonade. This is a very famous summer drink in the Indian subcontinent. It is made with fresh lemon juice, and sugar syrup. This is one of the best coolants and it takes only a few minutes to make it….I have taken this idea of serving ....
Hot Frothy Coffee

–You would have enjoyed a frothy, rich coffee in expensive café joints and would have wondered if you could make it at home without any special gadget (coffee maker). Today we will be making a frothy, fluffy, rich, light and on top of that yummmyyy...licious coffee. We used to make this coffee at home in winters in India......

Thandai-Thandai is a very traditional milk based Indian drink. It is made with select spices grinded with rose petals and almonds. In North India this special drink is made for Holi (the festival of colors). My Gujarati and Rajasthani friends have told me that it is also made for the Maha-Shivratri festival as an offering to Lord Shiva. For both these festivals, Thandai is also sometimes mixed with "Bhanng" !....
Strawberry Lemonade

–This is a new twist to an old fashioned plain lemonade with a shiny pink look. Yes, there is no artificial coloring in it- it is made with fresh Strawberries. Pink lemonade or Strawberry lemonade with bubbling sparkling water/soda could be an attractive mocktail for a new year party.........

Hot Chocolate

–Hot Chocolate is one of the most famous hot drinks in the western world. In France, it is known as Chocolat chaud. When we were living in France, the international school used to serve chocolat chaud to the entire school before the Christmas holidays.. This is a perfect drink for winters. There are lot of variations of hot chocolate ; this is a basic recipe........

Lauki Juice

–I had never thought that I would be appreciating Lauki juice and would be writing it's recipe on my website until very recently. I had my first lauki juice in July 2012 and I actually liked it. Since our kitchen garden is blessed with numerous laukis this year. We distributed many of them to friends but there were still plenty left. And with the kids getting tired of even looking at a lauki

Mint Mystery-

-Mint is an excellent aromatic herb; it contains Vitamin A and C and is also rich in a number of minerals. This drink is also a good digestive. Cucumber is an excellent coolant and has more than 90 % water. This delicious drink made with lime, mint and cucumber is just one of the best coolants. So try it out…….

Tropical Treat

- Some of my regular readers often write that their kids do not want to eat fruits. I would like to recommend this highly nutritious and mind blowing drink for such kids. Everyone would just love this coolant made with tropical fruits like mango and pineapple……



Watermelon Juice

-Watermelon contains 92 % water - it is a good coolant, and a very good source of Vitamins A and C. It is an ideal fruit and makes an ideal drink for summers. This is a very easy-to-make drink and kids just love it……

Lemonade/ Shikanji-

"Old is Gold" is a perfect expression for Neebu Shikanji. This is a very famous summer drink in the Indian subcontinent. Shikanji is made with fresh lemon juice, sugar and a hint of black salt. This is one of the best coolants and it takes only a few minutes to make it….

Strawberry Slush

Slush is an English word meaning partially melted snow/ ice. Slushes or slushies denote flavored frozen drinks - these are very popular around the world and especially in western world. There are some special machines which make slush but it can also be made at home. This Strawberry slush is not only delicious

.....

Mango Lassi-

Lassi is a very famous yogurt based drink. Sweet Lassi is made by blending yogurt (curds/ dahi) with either milk or water and sugar. Mango lassi is very popular in western world. To be frank, I first tasted Mango lassi outside India. This is a very easy and delicious recipe for mango lassi…..

Badam Milk

– Badam is a Hindi word for almonds. Badam Milk is a very traditional, and delicious drink, and can be served any time of the year. Almonds are rich in calcium and iron and with milk makes for a very healthy drink. Almond milk also has medicinal values and is considered as very good for health. ……

Masala Chai

- Chai(Indian tea) is Chai! It can not be bound in season theory. This is an all time favorite, and I think made minimum two times a day in almost most of the Indian families in North India. Chai is one of the most famous Indian drinks, almost all my western friends not only know chai but also, call it ... chai.

Mattha

-This is a very healthy, and delicious drink can be served any time. It is a very good coolant, especially for the summer time. It helps in fighting the hot wind of burning summer afternoons .



Milk Shake- Milk shake is a healthy drink with the combination of fruits. If someone does not like to drink milk or does not like fruits, this is the best way to get milk and fruits at the same time. I add some cardamoms to give a nice aroma.

Mango Pana

-Mango pana is a raw mango preparation with combination of the mint and coriander leaves. This is a fat free, cholesterol free, and zero calories drink. This drink can be used as the flavored water (golgappe ka pani) for pani ke batashe.

Khatta Meetha Pana

-This is a sweet and sour, raw mango drink, mildly flavored with mint, and other spices; ideal for summer time. Raw mango is a good source of Vitamin C and Vitamin A. Vitamin C content is more in raw mango as compared to that in ripe mango.



Mango Shake

- Mango milk shake is one of the most popular drinks in summer months in India. Mangoes are in abundance in Indian store of our town these days, it is a good time to make mango delicacies with fresh sweet mangoes. Dashehri (a variety of mango from North of India) would be ideal to make mango shake;

Kesariya Lassi-Lassi is a very popular, yogurt(curd) based drink from India. This is a special lassi from Mathura city, the birth place of God Krishna.This Lassi has a nice aroma of saffron. You can also add honey in the lassi preparation.
Strawberry Shake

-Strawberries are very rich in Vitamin C and also good source of Folic acid, Iron and potassium and magnesium and with milk it makes a perfect drink. Enjoy this delicious and nutritious strawberry shake.

Mango Pineapple Smoothie

- Smoothies are fruit drinks made with fresh fruits and yogurt/vanilla ice cream. As the name shows smoothies are absolutely smooth drinks and are thicker than milk shakes. Smoothies are healthy drinks and very popular in united States.