November 21st-2015
Homemade Paneer!
Paneer is a kind of Indian cottage cheese prepared from fresh cow or buffalo milk. Paneer is an important ingredient of many Indian dishes. No party, festival and get together can be planned without paneer preparations. Paneer is used in various starters, main courses and in desserts (in the form of chenna) as well. Paneer is a good source of proteins, carbohydrates and calcium. If you live outside India you can easily find Paneer in Indian stores in most of the countries but nothing can beat the taste of homemade paneer. I like to make fresh paneer at home and it is very easy to make. To prepare paneer, some kind of acid, usually lemon juice/ vinegar/ citric acid / yogurt is added to boiling hot milk to separate the curds from the whey.
Please click on this link to follow an step by step recipe to make paneer at home.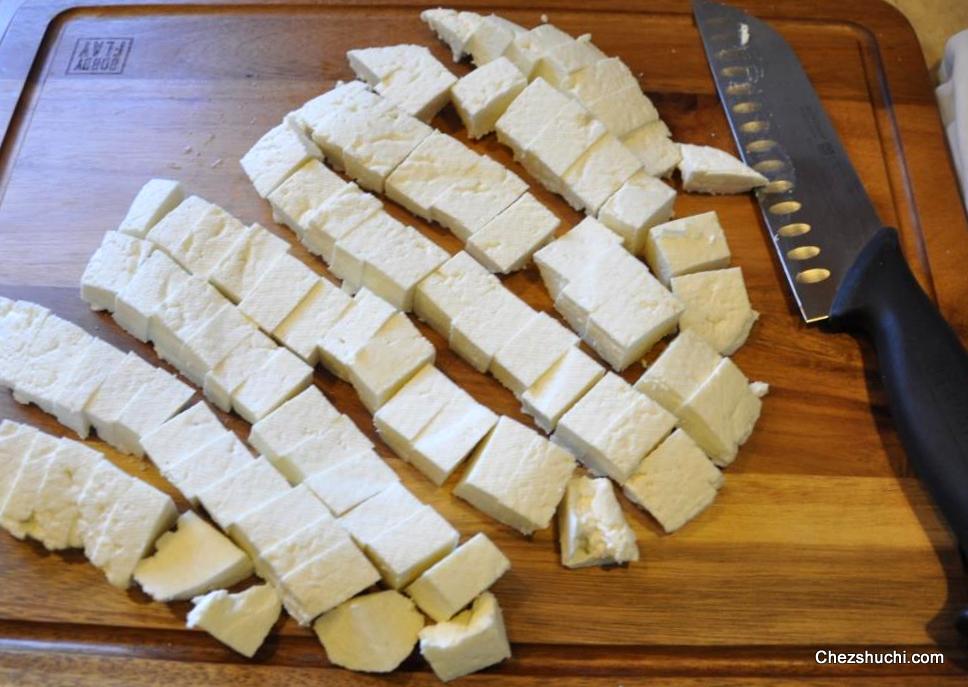 Please do try this recipe and as always do share your comments.
Happy cooking,
Shuchi
---
November 17th-2015
Thanksgiving!
Dear Readers,
Thanksgiving is one of the most important festivals in the USA. It is a national holiday celebrated on the 4th Thursday of November month. This year Thanksgiving is on November 26th. As the name shows Thanksgiving is celebrated to pay thanks. This festival is celebrated after the harvest, and often locally harvested crops are included in the feast organized on this day.
Read more about Thanksgiving here
Happy Thanksgiving!
Shuchi
---
Diwali Special- Rasgulla!!
---
November 6th-2015
Pantry Organization!!
Dear Readers,
Organizing anything is an art! Everyone likes organized stuff, it is pleasing to eyes and also makes things easier. Here we are going to talk about the art of organizing pantry or kitchen shelves. You can organize kitchen in your budget limits. You don't need to invest a lot to be organized.
Spices organization- Spices are key ingredients in any cuisine especially in Indian cuisine. I have a huge range of spices in my pantry. The name label helps to find them quickly. Here I would like to tell you that the bottom plastic containers are almost 17 years old. I got them from Aminabad, Lucknow in 1998. They have traveled so many different houses, cities, countries, and a three different continents with us and are still working fine.
To read the full article please click on this link.
With best wishes,
Shuchi
---
November 2nd-2015
Growing Tomatoes at home !!
Dear Readers,
Tomatoes are one of the easiest vegetables to grow at home, in ground or in containers. Tomatoes come in a wide range of sizes, shapes and colors. For several years we have been growing tomatoes in our kitchen garden. Tomatoes are rich in vitamin A and C, and are also rich in minerals. Tomatoes are used in salads, soups, curries, beans, launji, chutney, lentils, rice dishes etc.
This year at the beginning of spring, April-May 2015 I noticed some small tomato plants in our kitchen garden. I was a bit surprised because tomatoes are annual plants and they do not survive the first frost. In fact, last year we had extreme cold winters with multiple polar vortex occurences and temperatures well below -30F. In such brutal conditions it is a miracle that these tomato seeds survived in the ground. In the spring these plants started growing wildly. At this point I did not have any idea what variety these tomato plants were.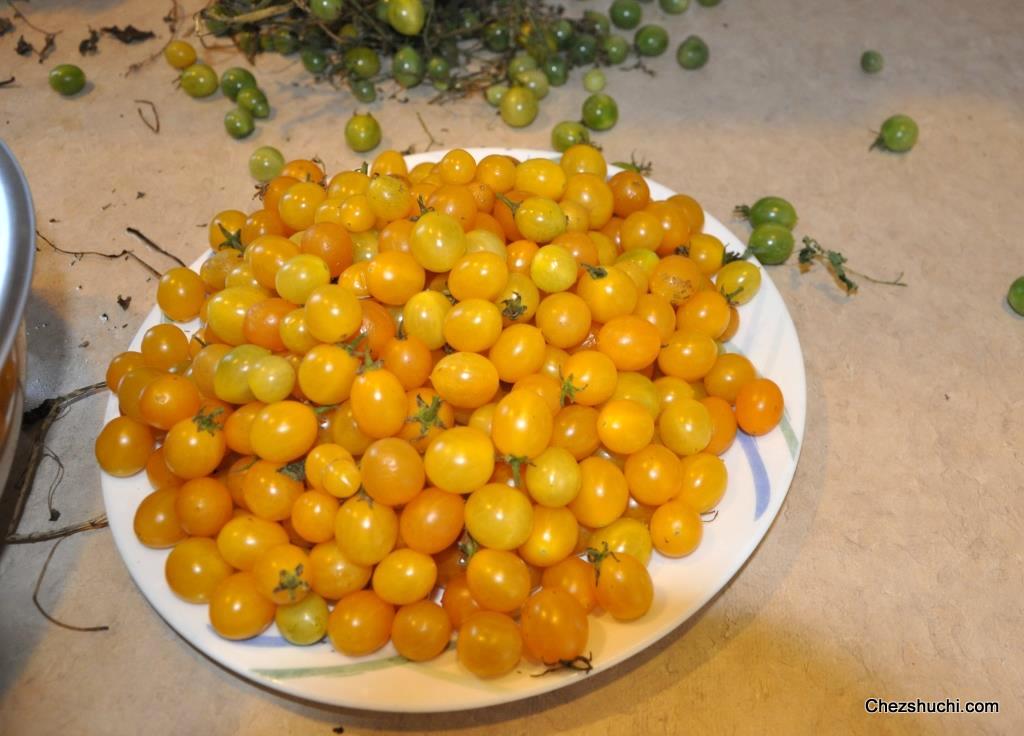 To read the full article please click on this link.
Enjoy Gardening,
Shuchi
---
Oct 14th, 2015
New Recipe- Fruit N Nut Laddu!
---
Some Latest Recipes
---
Oct 2nd, 2015
New Recipe- Aloo Palak Curry!
---
Sep 2nd, 2015
Basil Lemon Pasta!
---
some photos for party planning and party organization/ bulk cooking.