30 September, 2014
Navmi ka Khana!
Navmi is on Oct 3rd. Many people who fast for eight days break their fast on this auspicious day of Navami (ninth day of the navratri pooja) after the prayers and feed nine small girls. For the navami pooja mostly sooji ka halwa (semolina porridge) and kale chane (black gram) are made to offer to the goddess. Onion and garlic is not used for the pooja's (prayer) food. Usually one or two dry vegetables, vegetable in curry (without onion and garlic), one yogurt preparation (raita) , and poori and kachauri are made for the feast (kanya bhoj). The entire food is first offered to goddess and then to young girls and then the family eats......Read more about Navmi Special delicacies.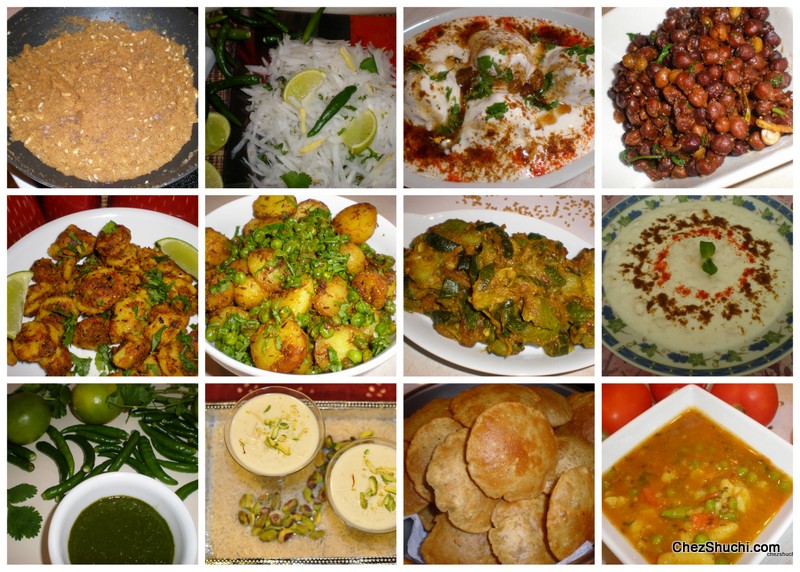 First Row- Sooji ka halwa, Mooli ka kas, Dahi vade, and Kale chane.
Second Row- Masala Arbi, Aloo Matar, Khatta meetha kaddu, Boondi ka raita.
Third Row- Khatti chutney, Kheer, Dal poori, Aloo tamatar ka rasa.
Happy Navami,
Shuchi
---
Sharad Navratri!
Dear Readers,
Sharad Navratri is the nine days long sacred festival.The word Navratri means nine nights in Sanskrit. Sharad Navratri falls in Kawar/Ashwina month according to Hindi Lunar calender.This year Sharad Navratri is starting from 25th September and -

Padeva/1st day of Navratri is on 25th September
Ashthami is on 2nd October
Navami is on 3rd October
Dussehra is on 3rd October
Many people keep fast (or VRAT) for eight days (from Parva to Ashthami) and eat only falahari dishes (fruits, vegetables, and dishes made with specific ingredients for fasting days). They break their fast on Navami after ceremony and prayers. Others who can not fast for eight days continuously, observe fast on the first day (beginning of the navratri) and the last day (ashthami or eighth day) of Navratri.
Sharad Navratri is passionately celebrated throughout India. Dussehra / Vijaydashmi is celebrated on the 10th day.
For this auspicious festival let's make some special delicacies. I will keep updating the Falahari dishes during the navratri.....
---

Happy Navratri !!
Shuchi
---
---
---