इस पन्ने को हिन्दी में पढ़ें
Corn Delicacies!!
Dear Readers,
We live in an American state, which is completely surrounded with Corn fields. This time of the year our weekly open market is flooded with fresh corns. The corn kernels, corn on the cob, baby corn etc are also abailable fresh. The following picture is of a fresh sweet corn stall in our weekly farmers market.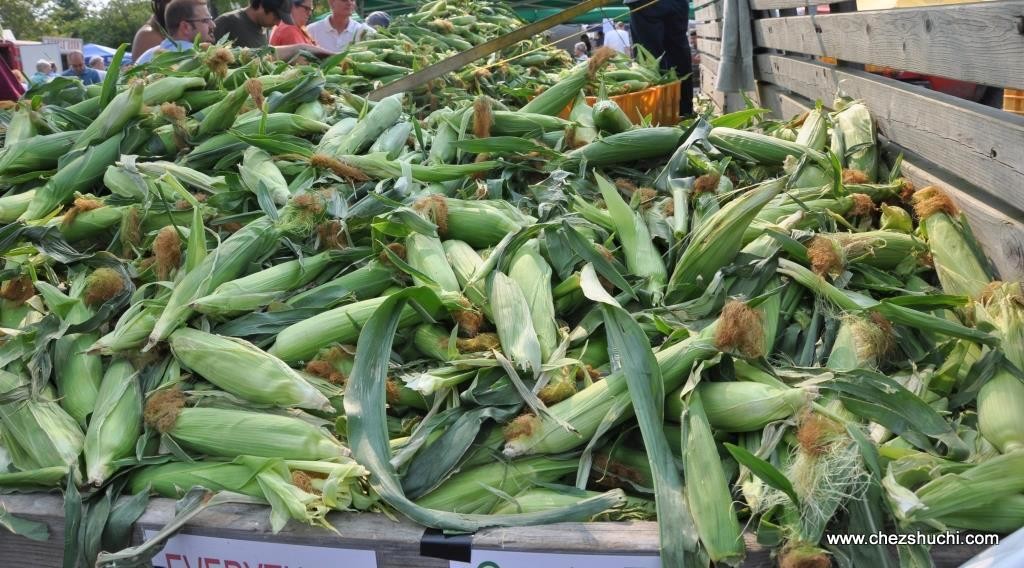 We all love corn in some form and make various dishes with corn. I thought it will be wonderful to share these dishes with you. Please keep trying the new dishes and do share your valuable suggestions...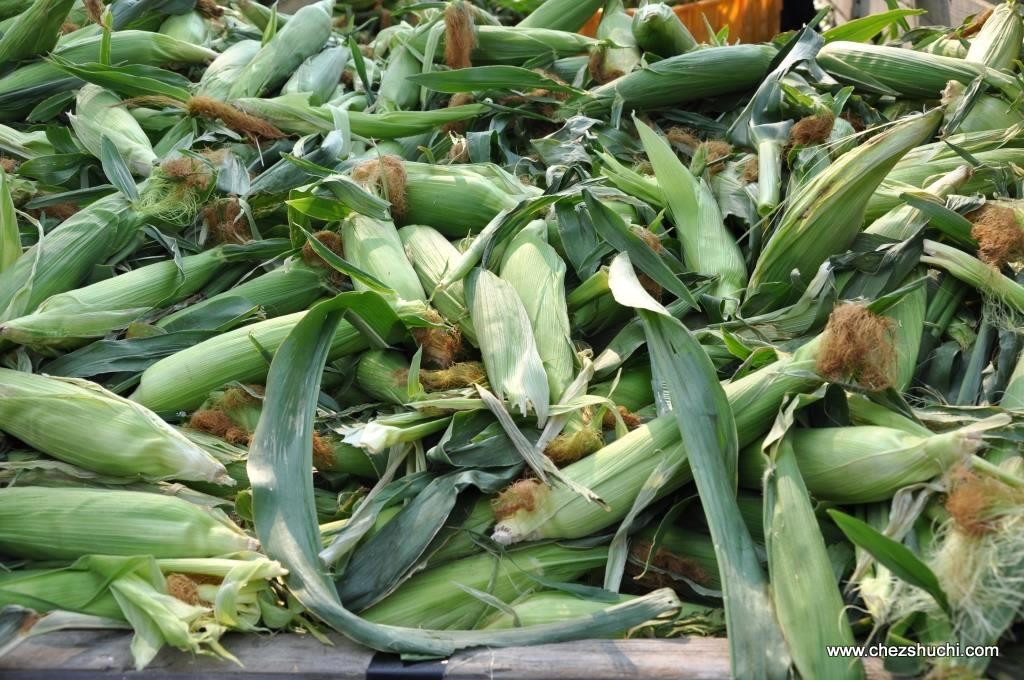 With best wishes,
Shuchi
Spinach Corn Curry-

Spinach corn curry is an easy to make delicious and healthy curry. Spinach has a high nutritional value and is extremely rich in antioxidants; it is a rich source of Vitamin A, C, E, etc. Spinach is also a good source of folic acid. I have used frozen corn kernels for this curry. Try out this awesome curry and as always ......

Makai ka halwa/ corn pudding-

This is an easy to make delicious sweet corn Halwa. The word Halwa has come from the Arab culture, and is used for a special kind of desserts, which are usually cooked in pure ghee (clarified butter) with water/milk. There is a large variety of halwas made in India- Gajar ka halwa, Moong dal halwa, Aate ka halwa etc...My brother who lives in Gujarat, visited us recently and told us about makai halwa which is very popular in Gujarat and Rajasthan. On his and my bhabhi's (sister in law) advice I tried this Halwa. Here is the recipe for my readers. ...;

Sweet Corn And Mango Salad-

What else can be more soothing in summer than a salad! Summer is the time of the year when the Bazzar is flooded with sweet corn, peaches, berries, mangoes etc.. So lets make a delicious, colorful, and very healthy salad with sweet corn kernels, ripened mangoes, and veggies. This creation is inspired by Master Chef Sanjeev Kapoor's dish named Peppery Corn and Tomato Salad. We have flavored the salad with lime juice. ... ..

Boiled Corn-

Corn on the cob is normally eaten while still warm. In Hindi, corn is called bhutta. Corn is either boiled or grilled and then seasoned with salt, freshly ground black pepper and lemon/lime juice. For this recipe I have boiled the corn ears....Corn is a good source of dietary fibers, Thiamin and folate. ..

Corn on the cob-

In Hindi, corn is called bhutta. Corn on the cob is normally eaten while still warm. Corn is either boiled or grilled and then seasoned with salt, freshly ground black pepper and lemon juice. For this recipe I have grilled the corn ears. Corn ears can be roasted on the gas stove or clay furnaces, or they can also be grilled on the barbecue....

Makai Dilbahar-

Makai Dilbahar is a mildly flavored rich curry preparation, made with Methi (fenugreek) leaves, green peas, and corn kernels. This is an exotic preparation that can be served with Lachcha paratha, butter naan, or even with plain paratha /roti... ..

Grilled Spinach corn Sandwich– This is a delicious as well as healthy sandwich. I have used corn kernels, baby spinach, and cottage cheese (paneer) to make this sandwich. You can also add some grated mozzarella cheese before you grill the sandwich. If you like spicy food, add more chilies as this is a mild preparation….
Corn Salsa -

Salsa is a Mexican/ Spanish variety of dip. Originally salsa is made from tomatoes and is relished as a spicy preparation. There can be different flavors of salsa. This is a spicy preparation for corn salsa. Salsas are served with corn tortillas. Lets make something international this time........

Sizzling Vegetables-

Sizzlers are very popular and usually served sizzling hot and smoking in restaurants. Many of our readers have been asking about the ideas to make sizzlers at home. In order to make sizzler at home you need a cast iron pan with a wooden base (This is also known as Mexican Fajita set). These come in different sizes and shapes. Please check with your local stores for detail. .

Dilruba Rice-

This delicious rice recipe has come to me from my sister in laws. My sister in law, Arpita made it with methi malai paneer and everyone specially kids loved it. So If your kids are fussy and do not like vegetables try this Dilruba rice, believe me they will ask for more...

Makke ki Roti

–Makke ki Roti (a variety of Indian bread made out of corn flour) is one of the most popular delicacies from Punjab. This Roti is served with Sarson ka saag (mustard leaves preparation) and one of the most popular combos.One can find this combo in road… …

Sweet Corn Soup-

Sweet corns are good source of vitamins, proteins and dietary fibers. This is a very easy and quick recipe for delicious and healthy sweet corn soup......…

Corn Rice

As the name shows it is a delicious rice and corn preparation. It is a easy to make dish and can be served as a complete meal with raita.
---
Please read about Growing Indian Vegetables at home !!
---
some photos for and party organization/ bulk cooking.