हिन्दी में पढ़ें
Mango Delicacies
Mangoes are called as the king of fruits. Everyone just loves mango. Of course Indian mangoes are unique whether it is Dushheri, totapari, sindoor, chaunsa, chusvan, Hafuz...the list is never ending. In this time of the year even in America, the Indian stores have mangoes in abundance. Mangoes are rich in Vitamin A, and C. They are also a good source of dietary fibers, and minerals. Raw mangoes rea ricer in vitamin C then ripened ones. If you want to read more about mangoes please click on this link. If you want to know more about Mango nutrition please check Wikipedia, http://en.wikipedia.org/wiki/Mango
Mangoes are extensively use in various cuisines. A variety of drinks, chutneys, pickles, sweets etc are made with raw as well as ripened mangoes. I have made a separate page for all the mango recipes written in the site to make your search easier. Let's try some yummy mango delicacies. SAs always all your suggestions and comments are very welcomed!
With best wishes,
Shuchi
---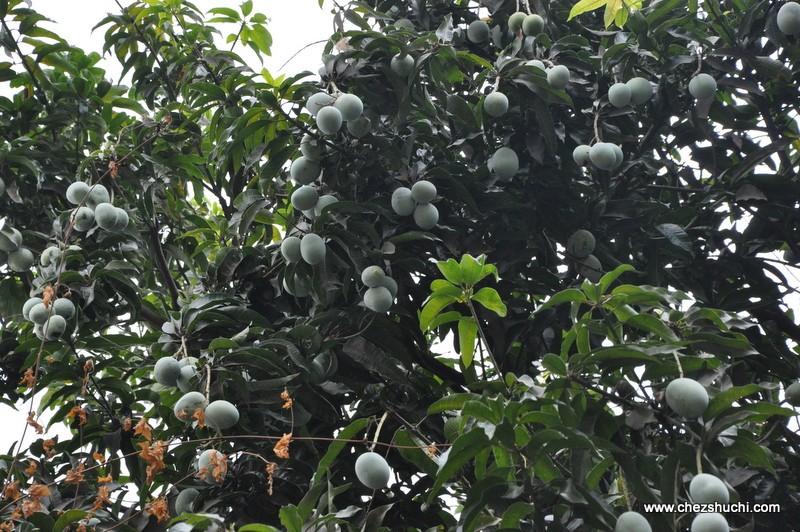 Mango tree laden with raw mangoes in Vadodara city, India
There are some easy and delicious recipes made with mangoes…..
---
Mango Popsicles -

Ice Lollies/ Popsicles - Everyone loves lollies and especially the kids. Homemade lollies are healthy and delicious too. Lollies are so easy to make at home. Make your kids' favorite flavors with them!! Here we are going to make mango popsicles. I got this idea from Better Homes and Garden magazine, and the good thing about this recipe is that you really don't need any special molds to make popsicles.

Mango Raita -

Raita is a yogurt based Indian dish. It is a coolant and is generally served as an accompaniment to the spicy main dishes. Mangoes are one of the most popular tropical fruits. Big thanks to my bhabhi (sister-in-law) who shared this delicious, healthy, quick and very easy raita recipe with me. Mint enhances the flavor of this raita so do add some fresh mint leaves if you have any. Try this yummy raita recipe and as always please do share your comments.....

Mango Bruschetta -

Bruschetta is an Italian appetizer made with grilled bread topped with many combinations of veggies. This is a fusion recipe of bruschetta; the topping of this bruschetta has a sweet and tangy taste of mangoes. A very easy and quick appetizer….You can make different versions of this delicious starter by topping with mushrooms, olives, etc…..Try out this fusion recipe of mango bruschetta and please do not forget to share your comments..

Mango Salsa

-Salsa is a Mexican variety of dip. There are so many different variants of salsa. Summer is the time of the year when the Bazzar is flooded with sweet corn, peaches, berries, mangoes etc.. So let us make a delicious, colorful, and very healthy sweet-n-tangy mango salsa. Salsas are served with corn tortilla chips. You can also serve them with regular chips or Indian Papdis...

Sweet Corn And Mango Salad-

What else can be more soothing in summer than a salad! Summer is the time of the year when the Bazzar is flooded with sweet corn, peaches, berries, mangoes etc.. So lets make a delicious, colorful, and very healthy salad with sweet corn kernels, ripened mangoes, and veggies. This creation is inspired by Master Chef Sanjeev Kapoor's dish named Peppery Corn and Tomato Salad. We have flavored the ... ..

Tropical Treat

- Some of my regular readers often write that their kids do not want to eat fruits. I would like to recommend this highly nutritious and mind blowing drink for such kids. Everyone would just love this coolant made with tropical fruits like mango and pineapple……



Khatta Meetha Pana

-This is a sweet and sour, raw mango drink, mildly flavored with mint, and other spices; ideal for summer time. Raw mango is a good source of Vitamin C and Vitamin A. Vitamin C content is more in raw mango as compared to that in ripe mango.



Mango Shake

- Mango milk shake is one of the most popular drinks in summer months in India. Mangoes are in abundance in Indian store of our town these days, it is a good time to make mango delicacies with fresh sweet mangoes. Dashehri (a variety of mango from North of India) would be ideal to make mango shake;

Mango Pana

-Mango pana is a raw mango preparation with combination of the mint and coriander leaves. This is a fat free, cholesterol free, and zero calories drink. This drink can be used as the flavored water (golgappe ka pani) for pani ke batashe.

Galka-

Galka is a traditional North Indian mango pickle. I remember when I was a little girl my grandmother used to make this pickle. Her mango pickle used to get ready in 10 days - it used to take a long time, since she used to keep it in the sunlight for 10 days. This recipe is a modified version of my grandmothers pickle recipe and gets ready in 15 minutes.

Mango Lassi-

Lassi is a very famous yogurt based drink. Sweet Lassi is made by blending yogurt (curds/ dahi) with either milk or water and sugar. Mango lassi is very popular in western world. To be frank, I first tasted Mango lassi outside India. This is a very easy and delicious recipe for mango lassi…..

Mango Pineapple Smoothie

- Smoothies are fruit drinks made with fresh fruits and yogurt/vanilla ice cream. As the name shows smoothies are absolutely smooth drinks and are thicker than milk shakes. Smoothies are healthy drinks and very popular in united States.

Mango Strawberry Yogurt

- Yogurt (In India it is known as Curd/Dahi) is a good source of Protein and calcium. It is also a very good digestive and is also considered as a coolant. This dessert is somewhat like parfait but it is much lighter… This light dessert is made with fresh fruits, yogurt, honey, and nuts. You can choose the fruits as per taste and availability. ....

Mango Kulfi-

Kulfi is a traditional Indian Ice-cream. It is made by boiling full cream milk and reducing it to one-third of its original volume. Kulfi can be of different flavors, like kesar pista, mango, malai, etc. Traditionally kulfi is frozen in a clay pot (matka) filled with ice and a little salt. In North India kulfi is served with Falooda. Falooda is special vermicelli made with sabudana/ sago. Summer....

Mango Custard-

Custard is an all time favorite dessert. There are different versions of custards in different countries. In France custard is known as la crème anglaise and also la crème moulée and the word refers only to an egg-thickened custard. In United Kingdom custard often refers to a milk based dessert thickened from cornflour (ornstarch) rather than eggs. In America, custard can also refer ....