Masala Arbi
हिन्दी में पढ़ें
Arbi is also known as arabi, toro, or colocasia. It is a summer vegetable and resembles a small potato. I use ajwain (carom) seeds for the preparation of arbi as it hepls in digestion of this vegetable. This is a very delicious preparation and goes with roti or paratha.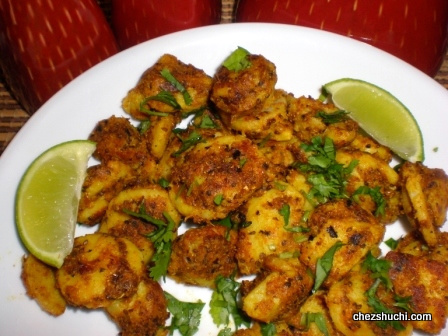 Ingredients

(serves 4)
Arbi       500 gms

carom seeds(Ajwain seeds)  1 tsp
Salt       1 tsp
Turmeric powder ½ tsp

Red chili powder    1 tsp
Coriander powder   2 tsp
Dry mango powder 1 tsp
Garam masala ½ tsp
Vegetable  oil        2 tbsp
Chopped coriander leaves  1 tbsp
Method of preparation
Wash, and boil the arbi roots. Peel off the boiled arbi's and cut them into circles. If the arbis are small cut them into halves.

Heat oil in the wok. Add ajwain seeds when seeds  stop crackling add turmeric, red chilli powder, coriander powder, dry mango powder and garam masala. Fry the masala for 10 seconds on low heat.
Now add arbi. Mix well and add salt and mix well again. Fry 10-12 minutes on medium heat. Garnish with green coriander leaves.
Delicious masala arbi is ready to serve.
Serve with plain paratha.
Tips
If you like spicy food add in some green chilies.
For this preparation small arbi would be ideal.
Some more dry degetable recipes
---