Tamarind Rice
हिन्दी में पढ़ें
In North India we do make different kinds of rice delicacies such as mangaudi ki tahri, badi ke chawal, pulavs, vegetable rice etc. My South Indian friends have taught me about a variety of rice preparations such as Bisibele bhaat, dahi chawal, vamingi bhaat, lemon rice, tamarind rice etc... This recipe is for Tamarind Rice, which is a a very popular South Indian preparation. Tamarinds are rich in Vitamin C and provide natural sour flavor to this tangy dish. Peanuts and lentils enhance the taste of this dish.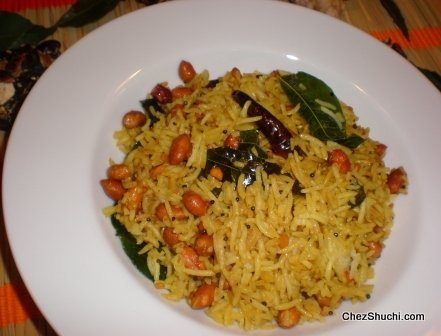 Ingredients

(serves 4)
Rice boiling time-10 min
Preparation time - 5 min
Cooking time- 10 min
Basmati Rice  1  cup
Water about  2 cups
Tamarind 20 gms/ Tamarind juice ¼ cup
Ginger an inch piece
Peanuts/ groundnuts ¼ cup
Mustard seeds  1 tsp
Gram lentil 1 tbsp
Urad lentil 1 tbsp
Sugar/ Jaggery ½ tsp (optional)
Oil 2 tbsp
Dry red chilly  2-3
Curry leaves 8-10
Asafoetida powder ¼ tsp
Salt 1¼ tsp or to taste
Red chili powder ¼ tsp
Turmeric powder ¼ tsp
White sesame seeds 1

¼

tbsp
Method of preparation
Clean, wash and soak the rice in the water for 20 minutes.
Boil the rice on high flame/heat, and reduce the flame/heat after the first boil. Now cover the lid. Cook until the rice are done. (it takes around 8-10 minutes  to cook the rice) . You can also boil the rice in Microwave.
Let the rice cool down completely. Use a fork to loosen and separate grains of cooked rice if you like.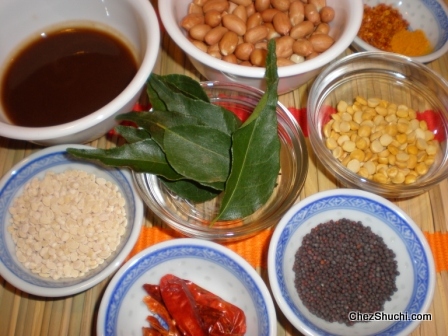 Peanuts, curry leaves, tamarind pulp, red chilies etc for tamarind rice...
Peel off the outer skin, wash, and cut the ginger into small pieces.
Wash the tamarinds and soak them in 1/4 cup warm water for 15 minutes.
Press through a strainer into a bowl. Remove the seeds and the fibers of the tamarind. Keep the pulp aside.
Heat oil in a non-stick skillet, add mustard seeds. When seeds pop up, add asafoetida. Now add curry leaf , and whole red chilies. Fry for a few seconds .
Now add peanuts and fry for about 2 minutes on medium heat . The peanuts will change color.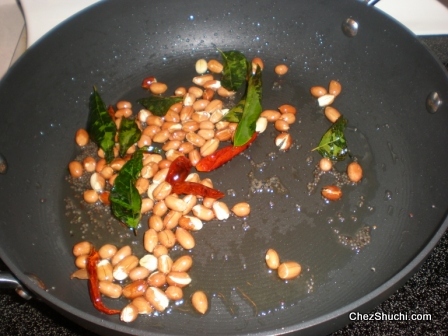 Now add gram lentils (chana dal) and fry for a few seconds. Now add urad lentils, and fry until lentils change the color. Add sesame seeds, fry for few seconds.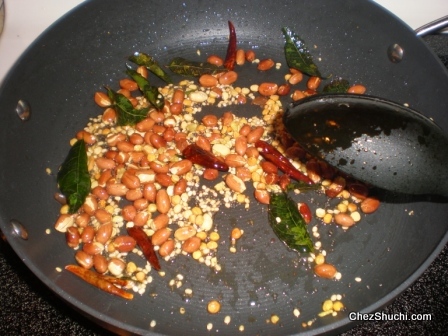 Now  Add finely cut ginger and fry for a few more seconds. Add turmeric, red chili powder and mix well. Add tamarind pulp and cook for about 30 seconds.
Now add boiled rice and salt, and mix well. Cook for a couple of minutes. Turn off the heat.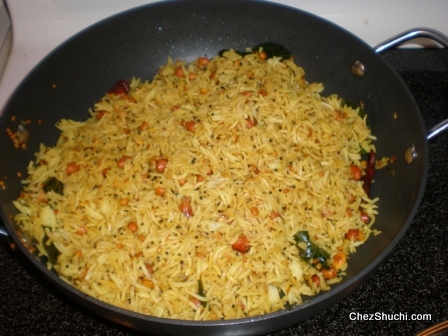 Tamarind Rice is ready to serve.
Some Tips and Suggestions:
I like to add a hint of jaggery in my tamarind rice preparation.
I usually boil the rice in advance and let it cool down completely before making any rice delicacy, so ricedoes not break and looks clear and separated easily.
Tamarind Rice is a good option for Lunch box meal for kids as well as adults. With Tamarind rice there are some grapes and a gond ka laddu!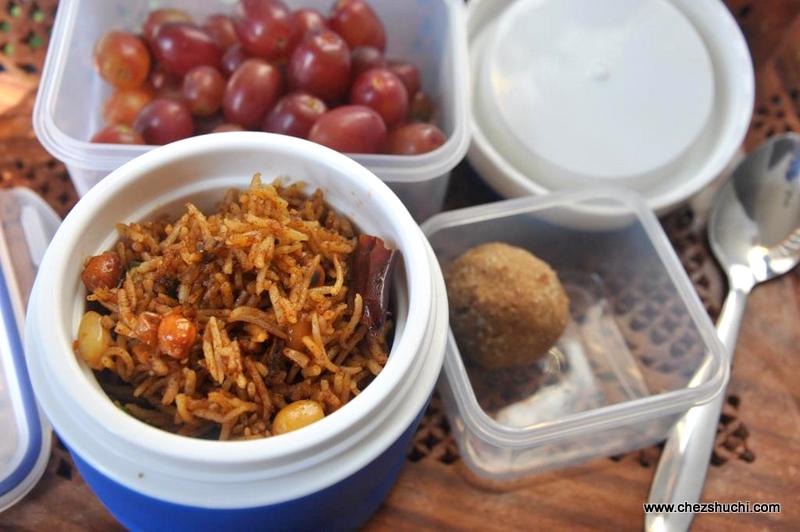 ---