Sambhar
हिन्दी में पढ़ें
Sambhar is a South Indian lentil preparation. It is a delicious and very nutritious dish, as it has, vegetables, lentils, tamarind juice and spices in it. Sambhar is made in different ways in each state of Southern India. It is served with rice, idli, Dosa, Uttapam etc ..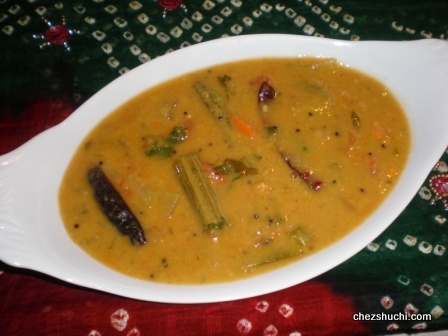 Ingredients

(serves 4)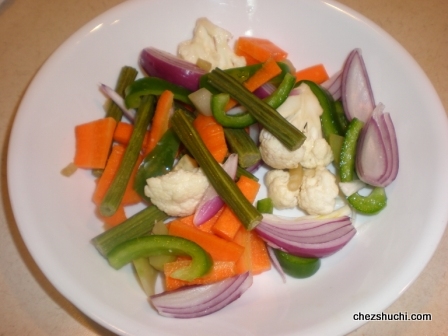 Arhar dal ½ cup
Diced lauki (bottle gourd) 1 cup
Diced carrots ¼ cup
Diced bell pepper ¼ cup
Drumstick pieces 6-7 ( about 3 inch long)
Tomato 1 medium
Small onions(baby) ½ cup(5-6)
Sambhar powder 1, 2 tsp
Sambhar powder 2, ½ tsp
Tamarind paste 1 tbsp
Salt 1 ½ tsp
Chopped coriander leaves 1 tbsp
For Seasoning:
Oil/ghee 1½ tbsp
Mustard seeds 1¼ tsp
Asafoetida a pinch
Curry leaves 7-8
Whole red chilies 1-2
Urad dal 1 tsp
Chana dal 1 tsp
Method of preparation
Clean Wash and soak the toor/arhar dal in one and half cups of water for 20 minutes. Boil toor dal/arhar dal with 1 tsp salt , until it gets tender, or take a whistle in the pressure cooker.
Boil the diced vegetables in tamarind juice and little salt till they get tender.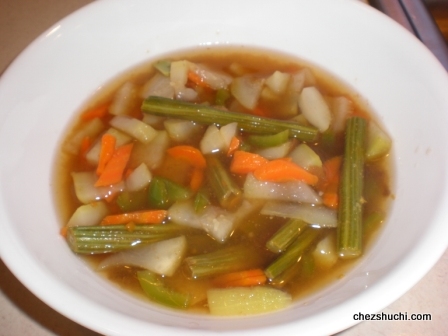 Mash the boiled dal thoroughly to make a fine paste .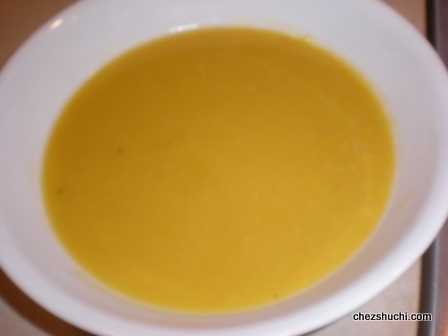 Wash the tomato and chop it.
Add powder 1 and sliced tomato to mashed dal.Cook for couple of minutes.
Now add boiled vegetables to the mashed lentils and bring it to single boil (takes about 4 minutes).
Now add powder 2 , mix well , cook for couple of minutes, and turn off the heat.
For Seasoning 
Heat oil/ghee in a small pan, add mustard seeds. When seeds pop up , reduce the heat and add curry leaf , whole red chili, a pinch of asafoetida, chana dal and urad dal. Fry for a minute . Now turn off the heat. Pour the seasoning to the sambhar.
Garnish with coriander leaves at the time of serving.
Serve hot Sambhar with Idli, Uttapam or with Dosa.
Tip: If you do not want to make sambhar powder at home replace the two powders with readymade sambhar powder. In that case increase the amount of toor dal to ¾ cup.
---