Sooji Ka Dhokla
हिन्दी में पढ़ें
Dhokla's are basically steam cooked snacks from Gujarat (Western India); made with fermented batter of different flours. This is a easy to follow and quick recipe for Semolina(sooji) ka Dhokla. This is very light, healthy, delicious and nutritious breakfast.
Ingredients

(serves 4)
Semolina (sooji ) 1 cup  
Besan 1 tbsp
Sour yogurt (Dahi) ½ cups
Water about ½ Cups
Turmeric powder ½ tsp
Sugar 1½ tsp
Asafoetida a pinch
Salt little more than ½ tsp
Oil 1 ½ tsp
Fruit salt (eno) 1 tsp
For Seasoning (tadka):
Oil 2 tsp
Mustard seeds 1½ tsp
Chopped coriander leaves 1 tbsp
Green chili 2

To serve:
Method of preparation
In a bowl take semolina, besan, salt, turmeric powder, sugar, asafoetida, and yogurt. Mix all the ingredients well. Now add water, and mix well again. Leave the batter for 10 minutes.
Grease a 6 inch baking dish. Keep aside .
Boil 1 cup water in the pressure cooker.
After 10 minutes semolina will absorb the water. Now check the consistency of the batter, add more water if needed - it should be easy to pour. Add oil in the batter. Mix well.
Now take half of the batter, add half fruit salt and pour 1 tsp water on top of fruit salt (Eno/ Alka-Seltzer). Mix well for a minute.
Pour the batter in the greased baking dish. Place the dish in the pressure cooker, and cover the lid. Do not forget to take the whistle off.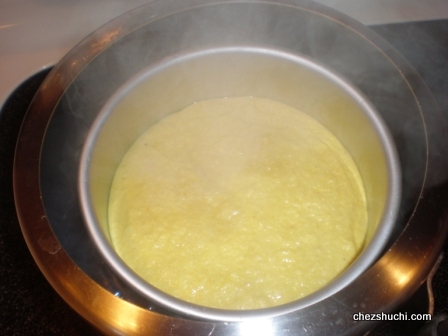 view of dhokla batter in the steam cooker
Steam cook Dhokla for about 14 minutes on medium heat.
After 14 minutes turn off the heat and take out the dish. Let it cool down for 2 minutes then cut the pieces of dhokla as shown in above picture.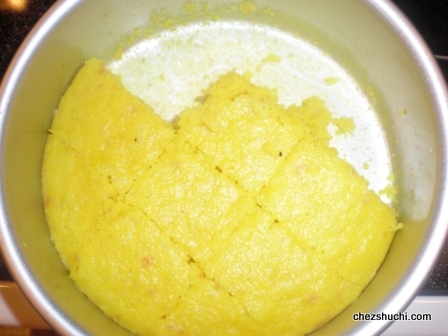 For Seasoning (tadka):
Remove the stem, wash and slit the green chilies.
Heat oil in a non stick skillet. Add mustard seeds , when seeds stop spluttering add slitted green chilies fry for few seconds and add dhokla pieces. Mix in well with seasoning. Turn off the Heat.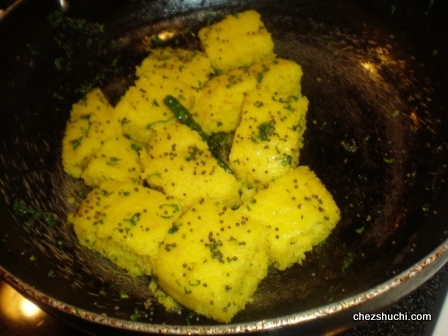 Repeat the process with the remaining batter. If you have a big steamer or big pressure cooker you can make the entire dhokla at a time in the big baking dish.
Garnish with chopped coriander leaves.
Serve hot sooji ka dhokla with coriander chutney .
Some other Snacks and Starters
---