Shimla Mirch Aloo
हिन्दी में पढ़ें
Shimla Mirch or Bell pepper or sweet pepper is commonly known as capsicum in India. The botanical name of bell pepper is Capsicum annuum. Bell pepper is rich in vitamins, minerals, dietary fibres and also in beta carotene. There are a lot of health benefits of eating bell peppers. This is an easy to follow recipe for bell pepper and potato sabji…….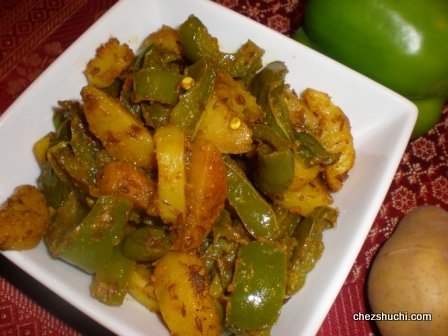 Ingredients

(serves 4)
Capscium 3-4 medium
Potatoes 4 medium
Cumin seeds 1½ tsp
Asafoetida 1 pinch
Turmeric powder ½ tsp
Red chili powder ½ tsp
Coriander powder 2 tsp
Garam masala ¼ tsp
Salt 1 ¼ tsp or to taste
Dry mango powder (Amchoor powder) ¾ tsp
Oil 1½ tbsp
Method of preparation
Wash the bell peppers, pat dry and cut into about 1-2 inches long and 1/2 inches wide pieces.
Peel off, wash and cut the potatoes into same size.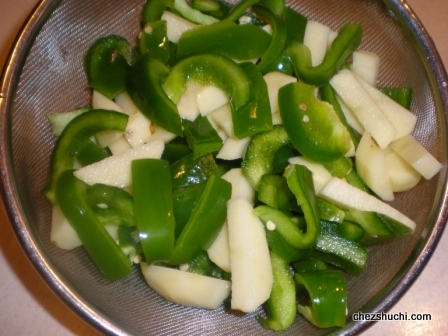 Cut capscium and potato
Heat oil in a wok on medium heat. Add cumin seeds. When seeds change the color, add asafoetida.
Now add turmeric powder, mix in the seasoning, and add bell pepper and potatoes pieces. Mix well and fry for a couple of minutes.
Now add salt, red chili powder, and half of the coriander powder. Mix well. Cover the lid and cook the vegetables on medium- low heat until bell pepper and potatoes get tender. (Takes about 12-15 minutes)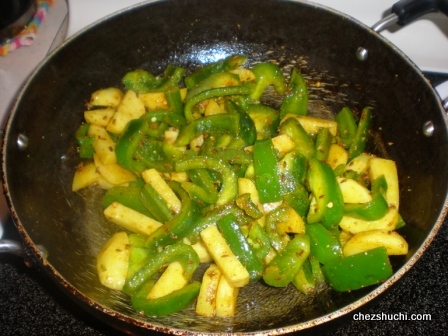 Capscium and potato cooking
Now add the rest of coriander powder, dry mango powder (amchoor powder), and garam masala. Fry the vegetables gently for a couple of minutes.
Delicious and healthy shimla mirch aloo is ready to serve. Serve with Plain Paratha or DAL CHAWAL.
Tips
Do not forget to wipe off any extra water after washing the vegatables.
Some other Dry Vegetables recipe
---