Shahi Kaju Curry
हिन्दी में पढ़ें
Shahi kaju curry is a Royal, festive preparation, and like other Royaldishes, this delicious creamy curry is made with onions, tomatoes and a blend of aromatic spices. I have used Cashew nuts, green peas, and Euryale ferox/ Lotus puffs (makhane) to put in the curry. This delicacy is a great hit for parties. Try this delicious preparation and please do share your valuable thoughts....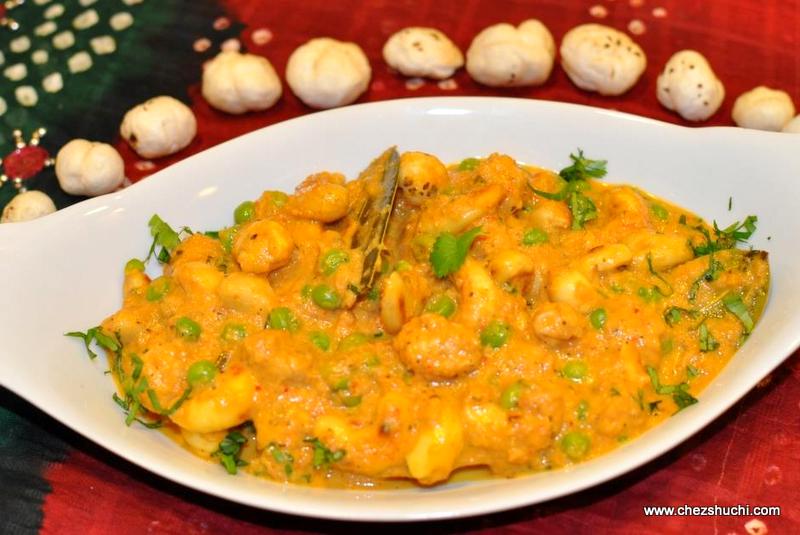 Ingredients

(serves 4)
Cashew nuts ½ cup
Green peas ¾ cups
Eurayle ferox / Lotus puffs (makhane) 1½ cups
Onion 1 medium/ 125 gms
Green chilies 1-2
Ginger 1½ inch piece
Tomatos 2 medium (about 250 gms)
Coriander powder 2 tsp
Red chili powder ½ tsp
Turmeric  powder ¼ tsp
Kasoori methi (dried methi) ½ tsp
Garam masala ½ tsp
Sugar 1 tsp
Salt 1 tsp
Oil / ghee 3 tbsp
Fresh cream ½ cup
Water 1 cups
Chopped coriander leaves 1 tbsp
Whole spices
Bay leaves 2
Cloves 4-6
Green cardamoms 4
Cinnamon 2 pieces (½ inch wide, one inch long)
Method of preparation :
Peel off onion, remove the skin of ginger, remove the stem of the green chilies and wash them. Roughly chop the green chilies, onion and ginger. In the blender make a fine paste of green chilies, ginger, and onion.
Wash tomates and grind them into puree.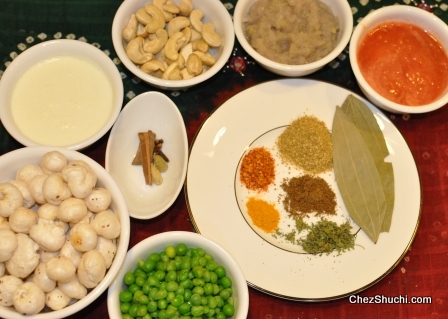 The ingredients of shahi kaju curry

In a non stick wok heat 2 tsp oil /ghee. Now add cashew nuts and fry them on medium heat until pink. Keep the fried cashews aside.
In the non stick wok heat 1 tsp oil and roast the makhane till they are crisp. Keep aside.
In the same non stick wok heat remaining 2 tbsp oil/ghee . Add all the wholesome garam masala ingredients (bay leaves, cloves, green cardamoms, and cinnamon) in the ghee/ butter and fry on low heat for a minute.
Now add onion paste and fry on medium heat till golden or until it leaves the sides of the pan. (takes about 8 minutes)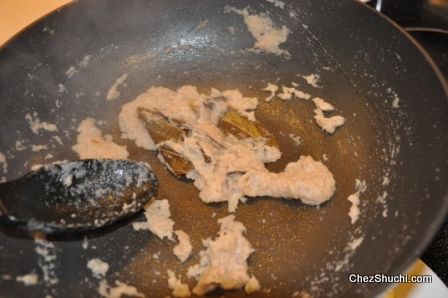 whole masala and onion frying

Now add coriander powder, red chili powder, turmeric , kasoori methi, and garam masala powder. Mix well and fry for couple of minutes.
Now add tomato puree and fry again until masala leaves the sides of the pan. (takes 3-5 minutes)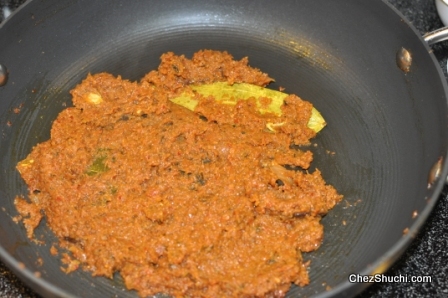 after adding tomato puree
Add fresh cream, mix well. Now add 1 cup of water and salt. Boil the curry for couple of minutes.
Now add green peas and let it cook for couple of minutes.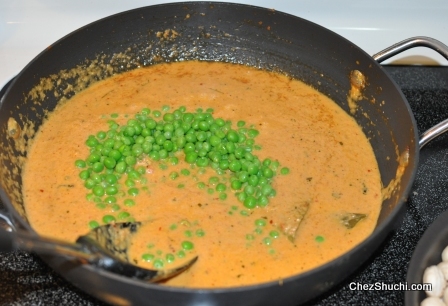 Finally add fried sugar, cashew nuts and makhane. Mix well and cook for a minute.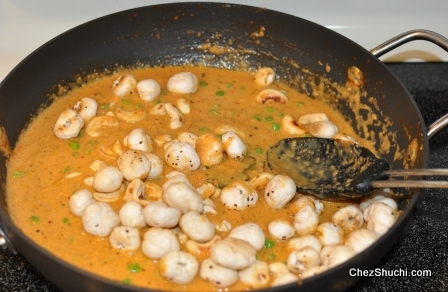 after adding all the ingredients
Delicious shahi kaju curry is now ready to serve. Garnish with chopped coriander leaves. An optional garnishing is with raisins - for a different Royal look!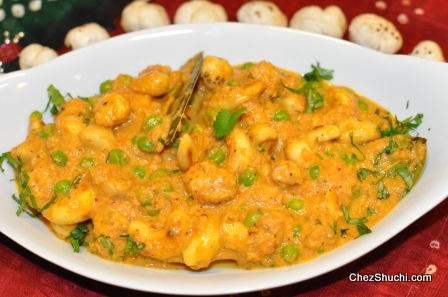 shahi kaju curry is ready
Serve with Rotis/poori/ butter naan or with other Indian breads.
Some Tips and Suggestions:
I do not use garlic in my cooking but if you wish to add garlic add it first before frying the onion paste.
Fresh Malai can also be used if you do not have fresh cream.
Mushrooms, corn, paneer etc can also be used in this royal curry preparation.
---