Sarson ka Saag
इस व्यंजन को हिन्दी में पढ़ें
Sarson  saag (mustard leaves preparation) is a very famous delicacy from Punjab. This delicious saag is served with makke ki roti (bread made out of corn flour). This delicious and famous combo is usually made in cold weather. Enjoy this delicacy in cold winter days……..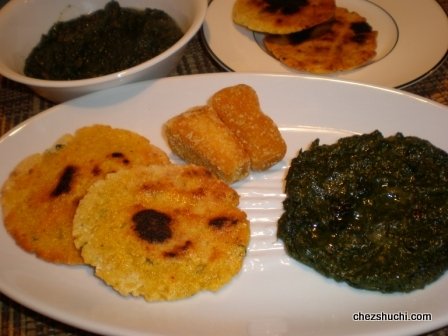 Method of preparation
Remove the thick stems of mustard and spinach leaves and wash them thoroughly. Do not need to discard the young and tender stems.
Boil 1 cup water in a pan with ¼ tea spoon salt and ¼ tea spoon sugar (to maintain the green color), boil the mustard leaves in the hot water till tender. It takes about 5 minutes to boil the mustard leaves. Now in the same water boil spinach leaves till they get tender. Let the boiled leaves cool down.
Mustard leaves Boiled leaves
Remove the stem and wash the green chilies.
Make a coarse paste of boiled mustad leaves, spinach leaves and green chilies. Make sure the paste is coarse (do not overgrind).
In a wok, heat 1 table spoon of ghee (clarified butter). Add the coarse paste of greens in it and cook for 5 minutes.
Now add makke ka aata, salt, garam masala, and fenugreek powder. Mix Well. Cook the saag for another about 10 minutes.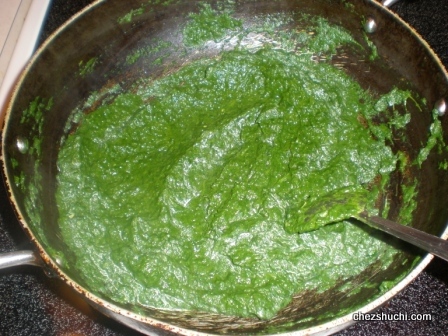 First view of saag after adding the cornflour ( makke ka aata).
Peel off onion, wash, and chop them finely. Peel off, wash and finely chop the ginger.
In a wok, heat the remaining 1 table spoon ghee, and add chopped onions and ginger. Fry the onions until it gets transluscent (takes about 2 minutes) . Turn off the heat.
chopped onion and ginger seasoning for saag
Pour fried onion seasoning on saag. Mix well and add lemon juice. Delicious saag is ready.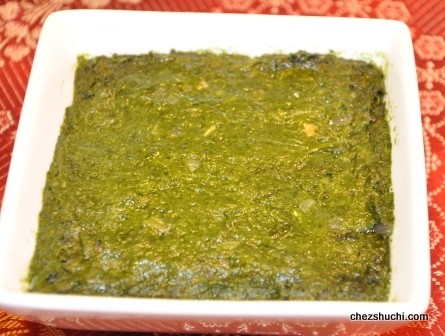 Saag is ready to serve
Pour hot ghee onto the saag at the time of serving. Serve hot saag with makke ki roti and jaggery (गुड़).
Tips
We need makke ka aata (cornmeal can also be used) for this recipe, but not corn starch.
If you do not eat onions make this saag without using onion , the saag tastes good even without onions.
Do not overcook the mustard and spinach, as overcooking will not only fade the color of the greens but also affect the taste.