Meethi Achari
इस व्यंजन को हिन्दी में पढ़ें
This is a grated-mango pickle recipe from North of India. This pickle is made from raw mangoes. Instead of regular white sugar, use either brown sugar or jaggery.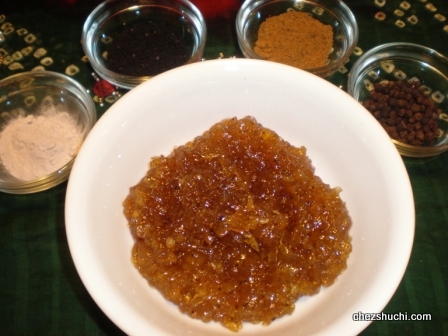 Method of preparation

Wash and peel off the  mango. Grate the mango.
Heat a pan and mix grated mango, sugar and all the spices. Mix well until sugar melts.

view of meethi achari after 5 minutes of cooking
Cook on medium-low heat for 15-20 minutes.
Let it cool and store in a glass bottle/container.

This instant pickle can be kept outside the refrigerator for months.
All time favorite meethi achari can be served with any meal.