इस विधि को हिन्दी में पढ़ें
Croutons
Croutons are crisp bread pieces added to soups and salads to enhance the taste. Readymade croutons are easily available at the grocery stores in different flavors but one can easily make them at home. There are different ways to make croutons...You can deep fry the bread squares and season them as per taste, or you can toast them in oven to cut the amount of fat.... Here I am sharing a very simple way to make crispy croutons at home. I have used wheat bread to make these croutons to maintain the health. Please try this recipe and do share your comments..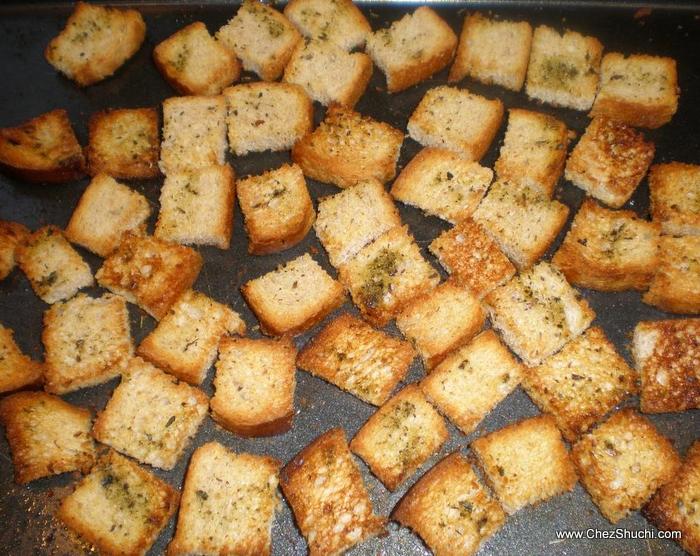 Ingredients
(serves 4-6)
Wheat bread 4 slices
Extra virgin olive oil to sprinkle on bread about 2 tbsp
Dried basil 1 tsp
Dried oregano 1 tsp
Salt to taste
Pepper to taste
Method of preparation for oven made croutons
Pre heat oven to 375° F.
Cut bread into 1 inch squares.
whole wheat bread bread pieces
Place bread pieces on the cookie tray.
Brush some extra virgin olive oil on the bread pieces.
Now sprinkle salt, freshly ground black pepper, dried oregano, and dried basil on the bread pieces.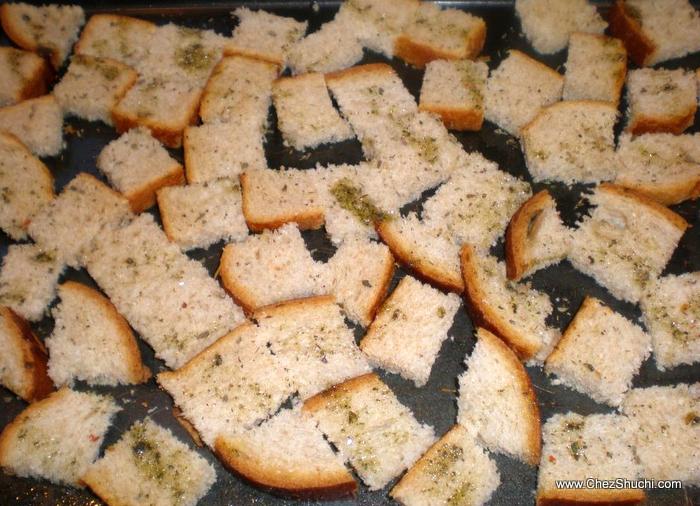 bread pieces with seasoning
Now toast the bread in the prea heated oven for 2-4 minutes. Now turn the side and toast the other side also for 2 minutes. Make sure bread pieces don't burn.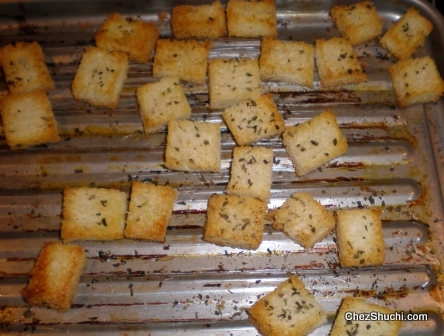 croutons without side crust
Method of preparation for deep fried croutons:
Cut bread into 1 inch squares.
Heat a griddle. Toast bread pieces from both the sides for a minute.
Heat oil in a wok on medium heat. Deep fry the bread squares until golden brown.
Take the bread pieces out onto the kitchen towel.
Sprinkle seasoning as per taste.
Some Tips/ Suggestions:
You can store these bread croutons in air tight container for a few days.
You can change the seasoning as per taste.
You can remove the crust sides of the bread slices to make them more professional and beautiful.
---
---