Bharvan Karele
हिन्दी में पढ़ें
Bharvan means stuffed. This is a very delicious stuffed preparation of bitter gourd. Bharvan karele/ stuffed bitter gourds are a North Indian speciality. Bharvan (stuffed) Karale can be kept outside the refrigerator for a week .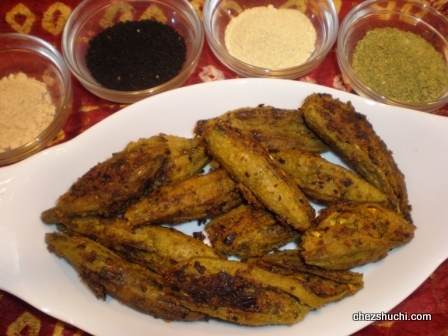 Ingredients

(serves 4)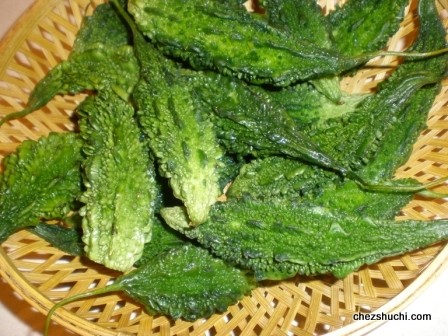 Bitter gourd (Karela) 500 gms
Salt 1 ½ tbsp

For stuffing
Onion 1 small (optional)
Kalaunji  ½ tsp
Grounded Fennel 2 tbsp
Turmeric powder ½ tsp
Red chili powder 1 tsp
Coriander Powder 1 ½ tbsp
Fenugreek powder 1  tsp
Grated jaggery 2 tsp
Salt ¾  tsp
Amchoor powder  1 ½ tsp
Oil 2-3 tbsp
Small karele would be ideal for stuffing
Method of preparation
Wash and remove the thick stem of Karela. Scrap the skins of karela and cut a slit vertically in the middle of karela without cutting it into two parts. Remove the hard seeds if they have any. ( If the seeds are raw and tender do not remove them as they really taste good)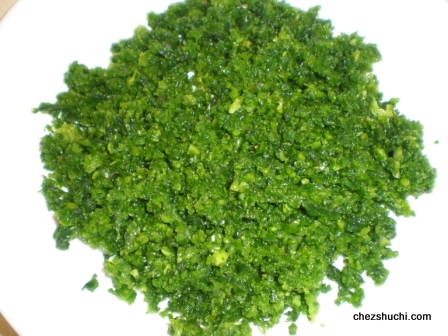 Karela skin
Mix salt in the scraped skins. Also apply a small amount of salt to the scraped karelas thoroughly, and keep aside for about 1-2 hours. This is an important step to remove the bitterness of karela's.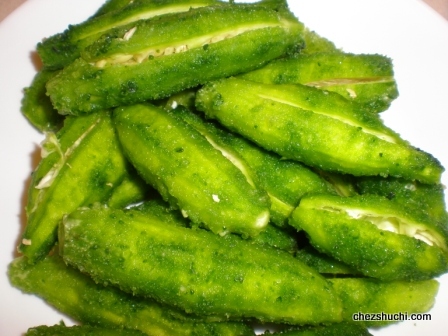 salt filled Karela (bitter gourd)
After about an hour, wash the skins of the karela in the sieve thoroughly to remove the bitterness and the salt. Squeeze the water off and keep aside. Now wash the karela thoroughly, squeeze the water off and keep aside.
In a bowl take the skin of karelas, chopped onions, and all the spices, and mix well. If the mixture is too dry, add 1 tsp water or oil.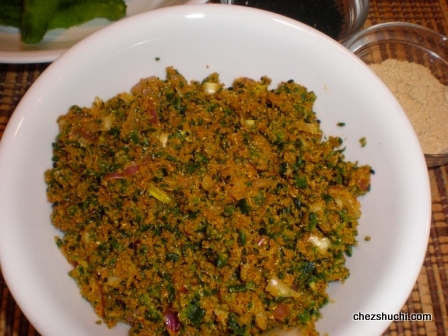 Open the slit of karela and fill the above mixture in it. Repeat with all the karelas.
In a wok heat oil, put all the karelas on the skillet, and fry for a minute. Now reduce the heat and cook them until they get tender ( takes about 20-25 minute).
Bharvan karelas are ready to serve. Serve with Roti or Plain Paratha.
Some Tips/ Suggestions :
Bharvan Karele are good option to carry with poori/roti if you are traveling, as it can be kept out side the refrigerator for 5-6 days if weather is not very hot.
Onions are optional. In case if you are not using onions add little more amchoor powder.
Use grated raw mangoes in place of amchoor powder if they are available.
Some Other Dry Vegetables Recipes
---